ACCESS Virtual Learning
News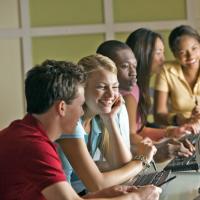 Learn more about the Alabama Act 2015-89 as described in Melinda Maddox's session on 9/22/2015:
CONGRATULATIONS!
The following winners of the 2016 ACCESS Awards were presented their awards during the opening session of the 2016 Alabama Educational Technology Conference:
ACCESS Administrator of the Year – Tom Cochran, Principal, Reeltown High School, Tallapoosa County Schools
ACCESS Teacher of the Year –           Larry Thigpen, Teacher/Coach, Cleveland High School, Blount County Schools
ACCESS Counselor of the Year –         Barbara Wilkerson, Counselor, Foley High School, Baldwin County Schools
ACCESS Facilitator of the Year –       Peggy Garner, Talladega County Central High School, Talladega County Schools
ACCESS Student of the Year -            Erical Johnson, LaFayette High School, Chambers County Schools
Thanks for all the applications and nominations.  We have a lot of really outstanding people working in the ACCESS program.  ACCESS continues to be one of the top Virtual Learning Programs in the nation.