ACCESS Virtual Learning
News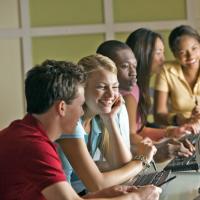 Learn more about the Alabama Act 2015-89 as described in Melinda Maddox's session on 9/22/2015:
CONGRATULATIONS!
The following winners of the 2016 ACCESS Awards were presented their awards during the opening session of the 2016 Alabama Educational Technology Conference:
ACCESS Administrator of the Year – Tom Cochran, Principal, Reeltown High School, Tallapoosa County Schools
ACCESS Teacher of the Year –           Larry Thigpen, Teacher/Coach, Cleveland High School, Blount County Schools
ACCESS Counselor of the Year –         Barbara Wilkerson, Counselor, Foley High School, Baldwin County Schools
ACCESS Facilitator of the Year –       Peggy Garner, Talladega County Central High School, Talladega County Schools
ACCESS Student of the Year -            Erical Johnson, LaFayette High School, Chambers County Schools
Thanks for all the applications and nominations.  We have a lot of really outstanding people working in the ACCESS program.  ACCESS continues to be one of the top Virtual Learning Programs in the nation.
The Alabama State Department of Education (SDE) kicks off the 2016-17 school year with our popular monthly Virtual Field Trips. Alabama has been a trailblazer using technology for the purpose of advancing education. Alabama Connecting Classrooms, Educators, and Students Statewide (ACCESS), Alabama Learning Exchange (ALEX), Alabama Technology in Motion (ATiM), and e-learning for Educators are all strong tools used for the advancement of digital learning, in addition to the expansive ways technology is used in the classroom.  Click here to sign up.
September 12
Careers in the NFL
A Journey Through the Life of Helen Keller
Septermber 23
First Alabamians
September 13
First Alabamians
September 26
History of the NFL Scoring System
Men from Alabama that YOu Should Know
September 19
A Journey Through the Life of Helen Keller
September 29
Great Women of Alabama
Click on the link for More Information.